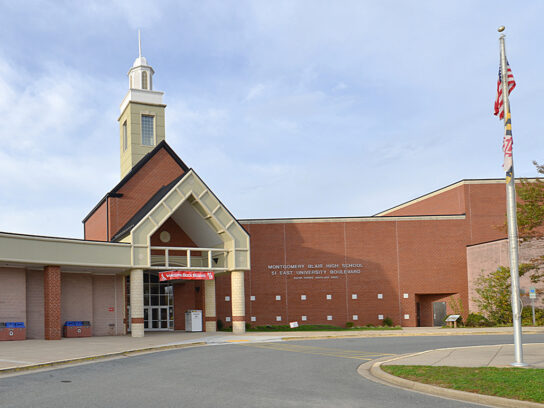 Un sospechoso está bajo custodia policial, anunció el jefe de policía del condado de Montgomery, Marcus Jones, en su cuenta de Twitter.
The suspect from this morning's Blair HS incident is in police custody. Thanks to our officers for their quick work.

— Marcus Jones (@mcpdChief) November 8, 2021
El lunes en la mañana, un estudiante de la escuela secundaria Montgomery Blair fue trasladado a un hospital con lesiones, que no ponen en peligro su vida, tras ser apuñalado por otro estudiante, según el Departamento de Policía del Condado de Montgomery (MCPD).
Se llamó a la policía a las 10:01 a.m. con informes de que un estudiante había sido apuñalado en el estacionamiento de la escuela, según un comunicado enviado a MyMCM por la directora de información pública del MCPD, Shiera Goff.
Tanto el estudiante como el sospechoso son estudiantes de Blair High School y ambos son menores, dijo la policía y señaló que no están publicando edades o géneros en este momento.
La escuela secundaria se cerró temporalmente antes de mudarse a un refugio en el lugar, según la directora de Blair, Renay Johnson, en Twitter.
Montgomery Blair High School is in a lockdown. Students and staff are safe in the building. There was a serious incident in our parking lot. MC police and school security are working with me on this issue. I will send a letter to the school community as soon as possible.

— Renay Johnson (@blairprincipal) November 8, 2021
We have moved to a Shelter-in-Place. Students are having lunch inside the building. MC Police are still in our building. Our doors are being monitored by personnel. I will update you as more information becomes available.

— Renay Johnson (@blairprincipal) November 8, 2021
La policía dijo que no hay una amenaza activa para la escuela y que "todo está contenido en este incidente".
Mientras tanto, el vicepresidente del concejo del condado de Montgomery dijo en su reunión con los medios que a pesar de que no tiene muchos detalles de lo sucedido, apoyan al departamento de policía del condado y al sistema público escolar en la investigación del caso.
"Mantenemos en nuestros pensamientos y oraciones al estudiante que sufrió lesiones no mortales y les deseamos una recuperación completa y rápida", dijo el presidente del Concejo del Condado, Tom Hucker, durante una conferencia de prensa virtual el lunes. "Esta es una noticia desgarradora y estamos esperando más información de MCPD y MCPS [Escuelas Públicas del Condado de Montgomery]".
"Soy consciente y también estoy monitoreando esta situación inquietante. Estoy en contacto cercano con @mcpdChief Jones de @mcpnews [Marcus Jones, jefe de policía del condado de Montgomery]", escribió el ejecutivo del condado Marc Elrich en Twitter.
"Profundamente entristecido por los informes de un apuñalamiento en el estacionamiento de Blair High School esta mañana", escribió el representante de los Estados Unidos Jamie Raskin (D-Md. 8) en Twitter. "Sé que la comunidad de MCPS se unirá durante este horrible trauma. Mis pensamientos están con los estudiantes, la familia, la facultad y el personal en este momento difícil".
En horas de la tarde, la directora de la escuela envió la siguiente carta a la comunidad estudiantil: 
Estimadas familias de la preparatoria Montgomery Blair,

Les escribo para brindarles los hechos relacionados con el grave incidente en nuestra escuela esta mañana, 8 de noviembre de 2021. Aproximadamente a las 10 a.m., dos estudiantes de Montgomery Blair High School estaban involucrados en un conflicto en el estacionamiento de la escuela junto a Colesville Road. Un estudiante blandió un cuchillo y agredió a otro estudiante que sufrió heridas cortantes. Los estudiantes y el personal notificaron a la administración de la escuela y se llamó inmediatamente a la policía del condado de Montgomery (MCPD), y respondieron a la escuela. El estudiante lesionado fue transportado a un hospital local, donde está siendo tratado por lesiones que no amenazan su vida. El sospechoso abandonó los terrenos de la escuela, luego los padres del estudiante lo devolvieron a la escuela y la policía del condado de Montgomery lo detuvo.

Durante este incidente, la escuela se cerró para garantizar la seguridad de todos los estudiantes y el personal. A las 11:00 a.m., el bloqueo se modificó a un refugio en el lugar para ayudar con la investigación en curso y permitir que las clases continúen de manera segura. Quiero agradecer a mi personal, al personal de la oficina central y a la policía del condado de Montgomery por su rápida acción para proteger nuestro campus y garantizar que nuestros estudiantes estén seguros. Como siempre digo, "si ve algo, diga algo", y ese fue el caso hoy, ya que el personal y los estudiantes nos informaron de inmediato del incidente. Una comunidad escolar solidaria y que apoya es el estilo de Blair.

La salida ocurrirá normalmente y las actividades después de la escuela continuarán hoy. Si tiene alguna pregunta, puede comunicarse conmigo al 240-740-7200. Realmente agradezco su apoyo.

Atentamente,

Renay Johnson, director