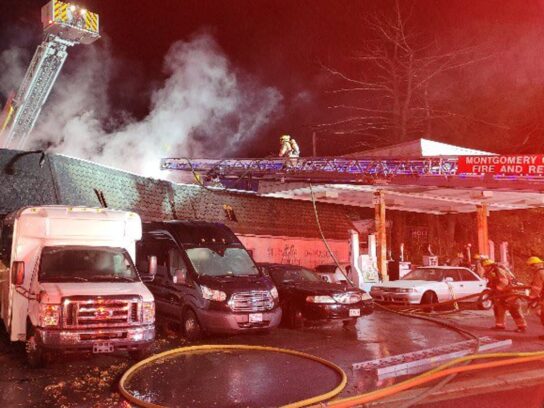 UPDATED DEC. 29 at 4 p.m.
Detectives from the Montgomery County Police – Collision Reconstruction Unit have identified the victim in the Dec. 19 fatality as 40-year-old Ronald Edward Samuels Jr. from Clarksburg.
_____________________________________________________
A vehicle collided into a commercial building in Damascus around 11 p.m. on Sunday, Dec. 19, causing a fire that resulted in damages and one deceased.
An MCPD 5th District officer was on patrol last night when he observed the building along the 9900 block of Main Street on fire, according to a press release.
First responders arrived to find a vehicle had crashed into the building which was already engulfed in flames. Nearly 80 firefighters battled the 2-Alarm blaze, with support from Frederick and Carroll counties.
(~11p 12/19) 9800blk Main St., Damascus,, 2nd alarm commercial building fire, first arriving @mcfrs units encountered heavy fire pic.twitter.com/aLcAeQyZnN

— Pete Piringer (@mcfrsPIO) December 20, 2021
The building housed several businesses, including Bob's Limo Service and a spiritual advisor. The damages are estimated to be greater than $650,000.
Due to the low temperatures, the roads became icy. Several sections of the surrounding roads were closed overnight, including Main Street from Lewis Drive until Bethesda, Church Road NB Ridge Road at Bethesda Church Road and SB Ridge Road at Woodfield Road.
It was determined the vehicle was traveling north on Ridge Road, approaching the Y-intersection of Lewis Drive and Main Street. The vehicle left the roadway and struck a dumpster before careening into the building.
The driver was pronounced dead at the scene.
The identity of the driver has not been released due to the active nature of the investigation. MCFRS is investigating the collision and the fire, while MCPD looks into the cause of death.
According to the Action Committee for Transit, the driver was the 21st occupant and 43rd road death in Montgomery County this year.
Anyone with information regarding this collision is asked to contact Collision Reconstruction Unit detectives at 240-773-6620.