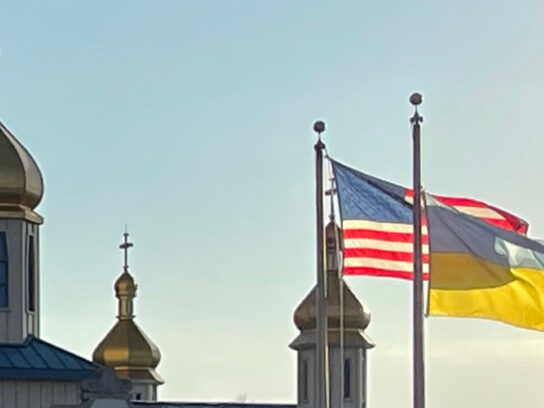 Igor Nadtokin has only been in the United States for three months and Silver Spring for two. Still, he is overwhelmed by the support for his native Ukraine and the assistance he has received to start a new chapter of his life.
The 34-year-old came to America through the Mexican border after being declared a Ukrainian humanitarian parolee. He received permission to work here and already has found a job with a large jewelry company, where he hopes to start in a few weeks. He is a gem stone specialist.
Nadtokin, who described himself as a private person and asked that his photograph not be taken, was born in the Soviet Union. He was about three years old when homeland declared its independence. He lived in Brovary, about 10 miles from Kyiv, until 2014 and has resided in several countries since then. His step-mother, cousins and many friends are still there.
"They don't want to move at all. It is their land," he said. His city was the very first place Russia bombed, missiles fell on military objects and in the forest at the start of the war.
Everyone he is close too is safe. "So far so good. I am happy to have all my friends and relatives. The first month was very complicated for everyone. They still can't believe in the 21st Century someone can take over a country." He called Russian President Vladimir Putin "a 21st Century Hitler."
While the situation is bad, Nadtokin pointed out, "War never ended" for Ukraine since it gained independence.
Although stating that Ukraine needs more weapons, he expressed gratitude for what the world has provided. "Ukrainians are very grateful for all the help."
He also is impressed how neighbors, non profits and the government have helped him. He is living rent free in Silver Spring for three months and much of his furnishings have been donated.
Things will be better, he declared, once he starts his job and receives benefits.
"I came almost without any savings," he said. He also arrived, he noted sadly, without his laptop and all his photographs.